There are many remarkable people around us in Hong Kong. Some of them are unsung heroes dedicated to helping others and contributing to a bigger cause. And others may have overcome adversity to achieve their personal best, demonstrating astonishing willpower and an optimistic, can-do attitude. Through its community projects and the Charities Trust's donations to charities projects, the Club has played a supportive role in their heartwarming and inspiring stories.  Here we salute these remarkable individuals and share their positive values of life.
Blazing a path forward through teamwork in football – Lee Wing Yan
03/2017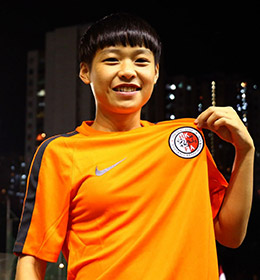 Lee Wing Yan
Top scorer of the first "JC School Football Development Scheme - HKJC N-League"
"Once, I focused only on myself;
Today, I understand that anyone can run fast, but only by gathering the strength of many can we go far – and this is why teamwork is key in football."
The past several years have seen Hong Kong women's football gradually gaining recognition on the global stage, after three members of the Hong Kong women's football team took part in trials in Japan, and Chan Yuen Ting – the first female manager to lead a men's professional association football team – was named AFC Women's Coach of the Year by the Asian Football Confederation.
For each of those who have made it this far, their journey has never been easy. Lee Wing Yan, 19, now plays for Chelsea Soccer School Hong Kong Women's Team...